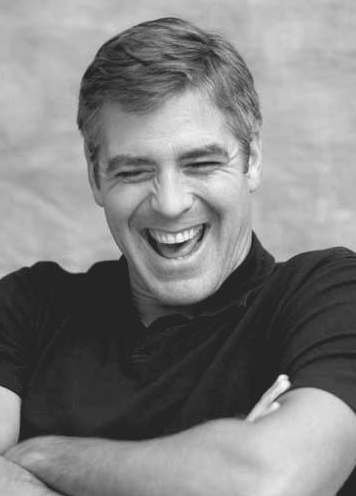 A yellow, laughing emoticon,




or George Clooney?!




I thought so. . . haha!


I

mage from www.sodahead.com
I was watching the news yesterday and the reporter was interviewing a couple who found a 3-yr old boy, crying at the Metro rail station. They decided to bring him home while they try to look for his parents. Since the boy doesn't speak clearly yet, he couldn't even give them his name. So the couple named him "Tom". The reporter asked the man why the name "Tom", he said. . . "Our last name is Cruz. . . so it's Tom Cruz". Hahahaha! Filipinos do have a good sense of humor, it's one of the best traits we have!
We also have a knack for coming up with the most creative (and funniest!) business names. I saw this list from
Kapisanan's blog site
. This is too funny not to share! Some of the names are hilarious! Haha!
Laugh to your heart's content. . . Enjoy your weekend!
(By the way, just in case you're wondering about what happened to "Tom", he is now reunited with his parents, and his real name is John)
1. Parlor in San Juan is named "Cut & Face".
2. Wholesaler of balut in Sto.Tomas, Batangas: "Starducks".
3. Fast food eatery in Nueva Ecija: "Violybee"
4. Internet cafe opened among squatters named "Cafe Pindot".
5. In Manila , there's a laundry named, "Summa Cum Laundry".
6. Petshop in Ortigas: "Pussies and Bitches".
7. A pet shop in Kamuning: "Pakita Mo Pet Mo".
8. Bakery: "Bread Pit".
9. Bank in Alabang: "Alabank".
10. Restaurant in Pampanga named, "Mekeni Rogers".
11. Restaurant in Pasig : "Johnny's Fried Chicken: The 'Fried' of Marikina ".
12. A boxing gym: "Blow Jab".
13. A tombstone maker in Antipolo: "Lito Lapida".
14. A copy center in Sikatuna Village called "Pakopya ni Edgar".
15. A beerhouse in Cavite called, "Chickpoint" .
16. Laundromat in Sikatuna: " Star Wash : Attack of the Clothes".
17. Internet cafe in Taguig named, "n@kopi@".
18. Name of a kambingan, "Sa Goat Kita".
19. A salon somewhere, "Curl Up And Dye".
20. A lugawan in Sta. Maria, Bulacan: "Gee Congee".
21. A water refilling station in Dapitan named "Wa-Thirst".
22. A store selling feeds for chickens: "Robocock".
23. Shoe repair in Marikina : "Dr. Shoe-Bago".
24. Shoe repair store along Commonwealth, "SHOEPERMAN: we will HEEL you,
save your SOLE, and even DYE for you".
25. Petshop: "Petness First"
26. Flower shop: "Susan's Roses".
27. Taxicab: "Income Taxi".
28. A 2nd hand watch store: "2nd Time Around".
29. A squid stall in a wet market: "Pusit to the Limit".
30. A gay lawyer's extension office: " Nota Republic ".
31. A ceiling installer: " Kisame Street ".
32. A car repair shop: "Bangga ka 'day?"
33. An aquatic pet store in Malolos: "Fish Be With You".
34. A beauty salon: "Saudia Hairlines".
35. A bakery: "Anak Ng Tinapay".
36. A resto along Mayon road in Manila : "May Lisa Eatery".
37. Laundry shop: "Wash Your Problem".
38. This mobile massage business name isn't funny, but
their slogan is: "Asian Mobile Massage Service: Massage only, God is
watching".
39. Ice cream parlor: "Dila Lang Ang Katapat".
40. Chicharon store: "Chicha Hut".
41. Neighborhood pizza store: "Pizza Hot".
42. A fishball cart near UST: "Eat My Balls".
43. A barbershop in Cagayan de Oro: "Pinoy Big Barber".
44. A Resto: "The Last Supper".
45. A goto resto: "Goto Ko Pa!"
46. A gym in Malolos: " Gaymann Fitness Center ".
47. A store selling fresh chicken, owned by woman named Dina: "Dina Fresh
Chicken".
48. Salon: "Hair Dot Comb".
49. Signage on a restaurant: "We are open 25 hrs. a day – no lunch/dinner breaks!"
50. A funeral parlor in Bacoor, Cavite :"Funeraria Happy"